About Mason Jar
Film Director  •  Storyteller  •  Producer
To see your next vision come to life, contact

info@mason-jar.net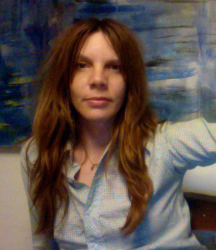 MAGGIE MILLER (AKA: MASON JAR)  • ARTIST • DIRECTOR •PHOTOGRAPHER
Maggie Miller's passion is the unrelenting drive to infiltrate and transform audience's perspectives, to tweak everyday realities and to infuse people's emotional landscape with mystery and myth. Through her films, photographs, large scale installation works and enigmatic storytelling, Maggie Miller elevates narrative beyond the trivial and explores the emotional and physical landscapes between inner dimensions and perceptions. Her works investigate relationship dynamics – crafting stories about desire, repression, volatility, cycles and alchemy.
Conceptually and visually inspired, she arrives at creative solutions through investigations and collaborations across various disciplines. Her artworks connect with audiences, sell products, screen at film festivals and win awards including: Winner of Best Music Video at Cannes International Film Festival, Festival Opener at London International Film Festival, screenings at MOCA/Geffen Contemporary, Kodak Theatre, Contemporary Arts Center Las Vegas, Atlanta Contemporary Arts, and Arizona State Art Museum. She has guest lectured at UCLA and receives private commissions, awards, and grants including the Durfee Foundation ARC Fellowship, Robert L. Adams Award, Kodak Hollywood Film Grant, UCLA Art Council and the US Vision Video Award, sponsored by Sony Corp. and the American Film Institute.
Through her film and art making production house, Mason Jar, Maggie Miller conceives and creates client's full brand identity needs including: producing and directing music and commercials videos, promotional photography, designing catalogues, lookbooks, album covers, and other various printed materials. She specializes in creating lush imagery, strong female iconography, and tightly written narratives with a subtle humorous bent. She thrives on uniting strong concept driven storytelling with elegant visuals that "wow" audiences. Some of the companies she's worked with are: Ken Corday Productions, Bethia Beadman, MTV – Automat Pictures, Derek Smart Productions, Park Pictures – Chase Bank MPO UK Records, Rosalie Records, Wikid Films,  Salvare Antiques and Salvage Company, Pollen Clothing, LA Eyeworks, The Hixters!, Podunk Poets, and Black Poppy Productions.
She lives and creates in Los Angeles.